Editing and Rewriting


"I never hesitate recommending Allen Kates as an editor and
writing coach. His writing and teaching skills are superb. I
know that his clients will walk away with a well crafted,
publishable product."

-Lynn Wiese Sneyd, LWS Literary Service, publicist, author of Holistic Parenting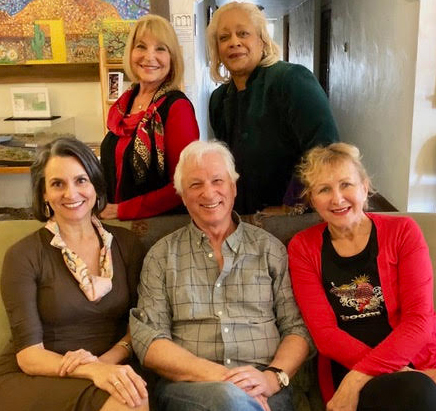 Allen R. Kates with Lori DiGuardi on BoomGoddess Radio show, 2018
Back, L--Andrea Gould-Marks, Ph.D., R--Jennifer Davis-Paige
Front, L--Lori DiGuardi, M.S., ACC, Guest Speaker and Author
Front, R--Barbara Peters, MBA
Editing and Rewriting
If you are not looking for a ghostwriter, but you do need an editor, here's what I do: When I edit your work, I read and edit everything you have written. Among other things, I fix the basics like grammar and spelling mistakes; replace overused, misused or uninteresting words with more compelling action words; invert sentences for more suspense; simplify and smooth out your prose; add subtext and tension to your dialogue; move sentences to create more impact; delete or rewrite unnecessary repetitions; improve your narrative and description; and offer suggestions (if any) for further development.
Some manuscripts require a complete rewrite, which means I may revise and reword nearly every sentence.
Many editors divide editing projects into light edits, medium edits and heavy edits. As you have guessed, a light edit is faster and less expensive to do than a heavy edit. But in my experience, I have found that every editing project consists of all 3 types of editing. Some areas need a light or medium edit. Other areas are complicated and take a lot of time. For you to ask an editor to do just a light edit may sabotage your project without you realizing it.
"Allen helped me take complex ideas and connect them to the reader's
experience. What I learned from Allen helped me grow my reputation
and expand my business."

-Dennis Stevens, co-author of The Next Revolution in Productivity, published June 2008,
Harvard Business Review

Sample of Allen's Editing
If you would like to read a sample of work I've edited, please contact me and let me know whether you would like to see nonfiction, fiction or academic work.
Contact Allen
It would be my privilege to work with you on your manuscript. Please call or email so we can discuss the details of your project. Everything you tell me is
confidential
. Please click
here
.
To
Top of Page.