Getting Published
with Allen R. Kates, MFAW



Getting published has always been difficult for authors. Today there are relatively quick and inexpensive ways for people to self-publish their memoirs, life stories, autobiographies and family histories. But sometimes the end result is not always the best quality, and there is really no cheap way to reproduce photographs and get good results. In addition, if authors use so-called "self-publishing" services, they often lose control of their product and end up paying a great deal for every copy they wish to sell.

If you prefer to follow the more traditional route by sending your manuscript to a publisher, here's how I can help...


Free endorsement letter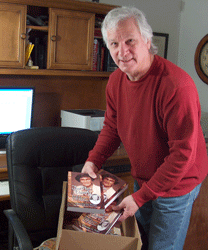 After I've written your manuscript, I will write
you a letter of endorsement for free if you wish to contact a literary agent, major or even small publisher that does quality work. When approaching publishers, an endorsement from a writing professional familiar with your work is helpful in getting your manuscript looked at right away.


Free query letter

Query letters are usually written by the author to a prospective literary agent or publisher. After I have written your manuscript, I will compose your query letter for you for free. Your query letter, along with a letter of endorsement, will go a long way toward getting your manuscript looked at as quickly as possible.


Cover copy, testimonials, and promotional material

If you decide to self-publish your ghostwritten book or use other sources that require you to write the text that will appear on your front and back covers, I will be happy to write your marketing material including cover copy, flyers, news releases and ads at his hourly rate of $50. This includes acquiring testimonials for the back cover and first interior page(s) of the book.


Using Allen's publishing company

If your manuscript falls within the parameters of HSP Publishing (Holbrook Street Press), please talk to me about using my publishing source, as I use this professional outlet to publish my clients' work when they do not want to go through the time-consuming query, submission and waiting process.
Queries can take months, even years. After a publisher finally accepts a manuscript for publication, it can take, on average, about 18 months for the book to be published.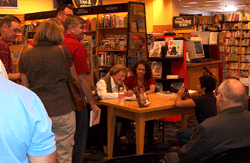 HSP Publishing, however, can publish a
quality book in less than 2 months after it has
been edited and typeset. Authors pay
production costs, but have full control over
their book and receive most of the profits.






Dorothy Finley signs her book, Just Plain Dorothy


Here are the basic criteria for publishing with HSP Publishing:

HSP Publishing is a small publisher dedicated to providing exceptionally well-written, gripping and inspiring books about overcoming life's obstacles, hardships, conflicts, adversity or psychological trauma, and offering sources for healing and recovery.

Some of the book categories are:
Memoir

Life Story

Autobiography

Family History


Biography

Self-help

How-to


Psychology

Sociology


History

Current Affairs

Although these categories are nonfiction, the company will consider other genres and fiction if they achieve or reach for the goal of healing the heart and soul. HSP Publishing wishes to provide uplifting stories of overcoming obstacles that show that people are capable of changing their lives for their own good and for the good of others.

For more information, please discuss this direction with me and have a look at www.HSPPublishing.com.

"Never having had time or opportunity to formally study writing,
I hired Allen to help me write my memoirs of the first 20 years of
my life. Working with him was a joy; he's an excellent author as
well as teacher. What a delight it was to see my book in print."

—Carol Filigenzi, author of In Defiance We Call Them Mangoes
Contact Allen

To estimate your costs and how long your book may take to write, please contact me. Your consultation is
free
and everything we discuss is
confidential
. Click
here
to connect.

To Top of Page.